*Note to customers: Please allow up to 24-48 hours for your payment to be processed for the download to be available. Thank you for your patience!*
This immersive class includes around 5 hours of pre-recorded video that follows a typical Open Source Skateboards workshop format. You'll build alongside the instructor, and can download the video so you can watch anywhere at your own pace.
This workshop covers:
Board design and shape definition
Modeling your skateboard in 2D & 3D
Creating molds
Gluing up skateboards & the Roarockit vacuum-bagging method
Creating templates & shaping the deck
Finishing & applying artwork
"I made my first board over 30 years ago with a press in my garden shed, and this is such a huge leap and step forward in the refinement of the skateboard making process. There's just SO MUCH knowledge crammed into this course, everything was covered in detail to properly educate me about making custom skateboards at home, and without it being dauntingly complicated. It's really inspirational to see someone like Beau at Open Source Skateboards take the time to walk you through and explain all the key elements of designing and making your own boards. It has inspired me to pick up my sketchbooks again, to carry on learning about skateboard design after 30 years- and crucially, to begin making my own skateboards". - Damian
SUPPLIES
Roarockit Skateboard Company is offering a special discounted build kit to accompany this workshop. This kit includes the materials and tools needed to make up to 5 boards and 2 different molds, and includes:
(1) 20" x 70" Roarockit Thin Air Press vacuum bag
(1) manual vacuum pump
(1) breather netting
Extra sealing tape
(1) gallon Plybond III glue*
(1) 3" glue roller*
(1) Surform rasp shaver
(5) 7-layer sets of 9.5" x 34" x 1/16" maple veneers (with 1/22" crossbands)
OR
(5) 8-layer sets of 12" x 47" x 1/16" maple veneer
(2) blocks of 9.5" x 34" x 3" high density foam
OR
(2) blocks of 12" x 47" x 2" high density foam
(1) Roarockit skateboard wheelbase template (RockitRulerFlex 34")
OR
(1) Roarockit longboard wheelbase template (RockitFlexRuler 47")
*Roarockit EU customers will receive 3.5 liters of glue and a 180mm glue roller.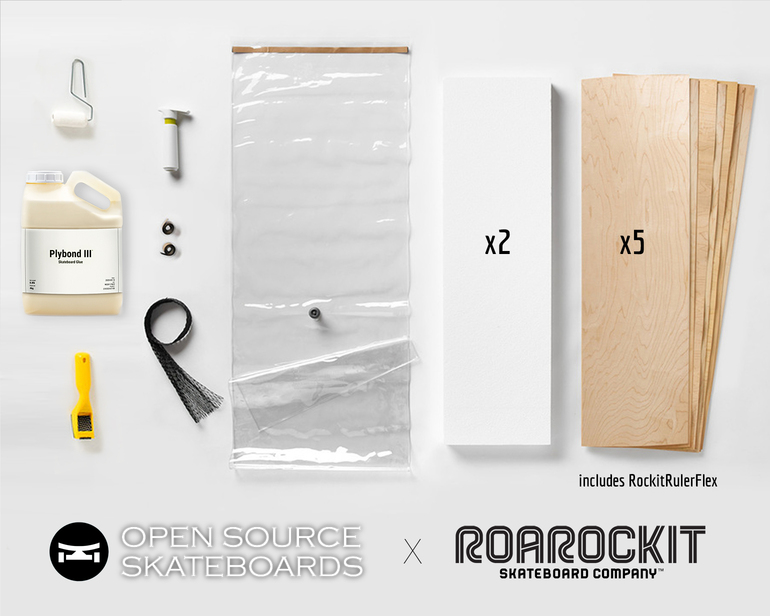 NORTH AMERICAN CUSTOMERS:
EUROPEAN CUSTOMERS:
SAMPLE CLIPS
SKATEBOARD & LONGBOARD DESIGN:
DIGITAL DESIGN:
MOLD MAKING:
PRESSING:
SHAPING:
FINISHING:
FAQS (FROM THE INSTRUCTOR)
Do I need woodworking experience or skateboarding experience?
Nope! While they are helpful, they are definitely not necessary.
I don't live in the US, will I still be able to make boards?
Yes! Suppliers I use and mention in the course ship internationally. Also, by taking the class, you may be able to utilize local resources if international shipping is too costly.
Why should I pay for this class? I can just learn everything for free on the internet.
You can learn a lot online for free. But, that requires lots of time, research, and sometimes some trial and error. This class will save you the time and hassle of research, and potentially from making some costly mistakes. Also, if you're considering starting your own company and having someone else produce boards, the 3D modeling section alone will save you hundreds of dollars worth of design time. Also, paying for this class supports the existence of Open Source Skateboards - if you value what we do here, we're grateful for your support!
Is this class refundable?
Yes - if you're not satisfied, I'll refund 100% of the class price. Just send me an email and let me know within 30 days of your purchase.
I want to build boards with a hydraulic press - is this class still useful for me?
Yes. While I only cover pressing via the Roarockit method, the overall process for building a board is fairly similar, and I do mention considerations that need to be made for hydraulic pressing and two-part molds.
What exactly do I get when I buy this virtual workshop?
When you complete your purchase, you will get access to a downloadable zip file which contains 7 videos (.mp4 format) and a PDF of the reference guide. The total size of the videos and PDF is approximately 15 GB. This means you will be able to download the workshop files and not be required to connect to the internet to view the workshop. There is no "live" aspect of this workshop, so it can be watched and followed at your own pace. No tangible materials or equipment are included with the workshop, but materials suppliers are linked to on this page.
What if I have questions while taking this workshop?
You can post questions in the forum so that I (and other builders and skaters) can answer them.
Where can I find more information about Open Source Skateboards?
Visit the Open Source Skateboards homepage at opensourceboards.com.
ABOUT THE INSTRUCTOR
Hi there! I'm Beau, and I'll be your instructor for this workshop. Here's a little bit about me:
I've been skateboarding for about 20 years, and competed in freestyle skateboarding internationally in 2016 and placed 4th in the pro division at the 2016 US Championships). I also get board design insight from many of my friends who are highly skilled in other disciplines, such as longboard dancing, downhill, street, and transition.
You can see a sample of my skating here: https://youtu.be/hxfc1ZS_6Nk
I've been designing and building boards since 2014 (which is when I created Open Source Skateboards). Beyond maple boards that are vacuum formed, I've designed molds for CNC machining and hydraulic pressing, used alternative materials, made unique shapes, and have customers riding my boards all over the world.
My educational and professional background is in mechanical engineering with experience in a variety of industries. If you're interested in my technical work, visit my LinkedIn profile: https://www.linkedin.com/in/beautrifiro/
I have been teaching technical and hands-on subject matter since 2015. Aside from teaching skateboard building, I've also taught robotics, 3D printing and electronics. In 2016, I was the education coordinator at Fab Lab San Diego.